Posted by: carmel | November 20th, 2019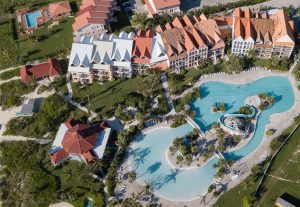 When Columbus first visited the islands of The Bahamas, he met a group of people already inhabiting it. They were a peaceful and happy group. Resilient. Living among one another in a harmony that seems to be pretty hard to find in our modern day and age. As hard as it may seem to find this harmonious atmosphere, Taino Beach Resort seems to have taken after their namesake, the Taino People, and channeled that culture through their tropical and mystical property.
When you live in Grand Bahama, you know not to take Hurricanes lightly. You know how easily the things you love and depend on can be taken away leaving nothing in its wake. Many people didn't know what to expect for our hotels here on Grand Bahama. After the horror that was Hurricane Dorian we didn't know what we would find after the water had receded and the skies cleared, the proverbial dust had settled. Yet, through the trauma that was a raging beast of a storm stood the Taino Beach Resort. Opening their doors just days after the storm to meet with and conduct a welfare check on their staff members, The resort was ready to help where they could, supporting their staff as well as the community at large. By collecting donations at their Flamingo Bay location and distributing much needed items to the community, the Taino Beach Resort stepped in to care for those that needed it the most.
Now, with the ocean waves crashing against the shore adding a distant background music to the beautiful property, it's hard to imagine that this majestic hideaway weathered a storm so gruesome. The property, however, held up well. With three buildings all very well maintained, Taino Beach Resort seeks to offer all that pass through their doors an experience one will remember for years to come.
Seeking to be a home away from home for all of their guests, Taino Beach offers grilling stations across the property. At any given time you'll be able to smell the fresh charcoal wafting around the property, creating a backyard feeling to the luxury that the villas provide. This backyard feeling is taken to a luxurious level with the property's 20,000 square foot swimming pool, a 100 ft. water slide and Jacuzzi. The pool has attached to it a grotto bar, hidden away from the casual onlooker, and a lazy river for those that would like to slow things down a bit. This is arguably the best pool oasis on the island.
Taino Beach Resort is also known for their legendary BonFire and Bahamian nights, where they actively seek to immerse their guests in authentic Bahamian culture. Hosted by their onsite restaurant Taino By The Sea, the staff serves delicacies that are popular in Bahamian society. During their Bonfire nights laughter and Bahamian music merge and travel through the night air to create an environment that embodies what vacation and island living is all about, Joy.
Taino Beach Resort is ready to welcome visitors to their stunning property. They're ready to conduct their infamous water sports activities like Kayaking and paddle boating. The staff is eager to prepare meals fit for Bahamian royalty. On an island that very rarely has a bad day, The only thing that's missing from this picture is you.