Grand Bahama Island Couples
Take a deep breath and close your eyes. Hear the sound of the rolling waves. Feel the powdery, white sand in between your toes. Smell the sweet aroma of authentic Bahamian cuisine. Open your eyes and journey to the romantic paradise that is Grand Bahama Island. Whether you're looking for a destination wedding, honeymoon or to rekindle the romance in your relationship, the tropical elegance on the island is enough to make you swoon.
Discover fun and romantic activities for couples
Grand Bahama Island is the perfect place to celebrate a new beginning or rekindle the original flame that brought you together when you first met. Get a full tropical experience with unparalleled spa treatments and walks along the beach under the beautiful, moonlit sky. There are plenty of things to do on Grand Bahama Island. Share this unique island experience with someone you love.
Bahama Beach Party and Snorkel Cruise
Take the romance out to sea with a special cruise. The 5-hour Grand Bahama cruise will first take you to the shallow reefs where you can take part in an unbelievable snorkeling experience. The second destination is private secluded beach for a BBQ feast and time to bask in the warm Caribbean sun. On the way back, unwind with a couple of Bahama Mamas and a little dancing. The cruise is available Wednesday, Thursday, Saturday and Sunday from 11am until 4pm. To make a reservation, visit Superior Watersports or call (242) 373-7863.
Canal Sightseeing Tours by Boat
Laced in each other's arms, get a little history lesson during your romantic getaway. Aboard a 45ft catamaran and surrounded by beautiful azure waters, extend your knowledge of Port Lucaya's past and explore some of Grand Bahama's residential areas. The tour is available every day and departs at 10:30 am. To make a reservation, visit Pat & Diane's Fantasia Tours or call (242) 373-8681 or toll-free (888) 275-3603.
Bonfire on the Beach
Heat things up on Grand Bahama Island. Feast on an all-you-can-eat Bahamian buffet and enjoy as many island drinks as you wish. The Bahamian beach party features various beach contests and a mesmerizing performance from a fire dancer. When you're ready to call it a night, take the opportunity to enjoy a nice midnight stroll on the beach.  This event takes place every Tuesday from 6:30 pm until 9:30 pm. For more information, visit The Margarita Villa Sand Bar Restaurant or call (242) 373-4525.
Forbes Charter
(242) 352-9311
Visit Website
SPA EXPERIENCES THAT RELAX YOUR MIND, REVITALIZE YOUR BODY AND FEED YOUR SOUL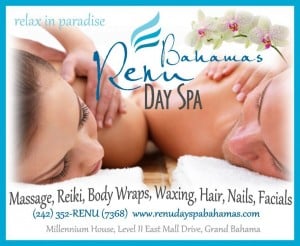 Leave all your pre vacation stress behind while you relax with a deep tissue massage, body scrub, full facial or energy balancing Reiki treatment. Choose from an array of authentic Bahamian hair and nail services or unwind with a sensational soothing pedicure. Whether you prefer to have a private session or a couples treatment, both of you will be guaranteed to feel relaxed, revitalized and renewed after spending time at Freeport's most popular Day Spa.
For additional information you can visit the Renu Day Spa website at www.renudayspabahamas.com or like their Facebook page at www.facebook.com/relaxatrenudayspa . They can also be contacted at 242-352-RENU (7368) or 352-7366 or emailed at renudayspabahamas@gmail.com.