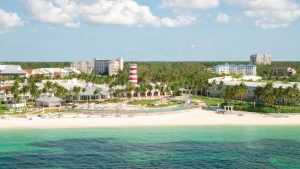 April 21, 2021 — Prime Minister of the Bahamas, Dr. Hubert Minnis, has announced the ease of travel restrictions for fully vaccinated travelers.
"Effective 1st May, those traveling to The Bahamas from outside of the country will be exempted from a COVID-19 test if they are fully vaccinated and have passed the two-week immunity period. Proof of full vaccination will be required." The Prime Minister further stated, "To be clear if an individual is not fully vaccinated, that individual will still be required to provide a negative COVID-19 test where testing requirements are in place."
Prime Minister Minnis also stated, "Travelers within The Bahamas who have been fully vaccinated against the COVID-19 virus will be exempted from COVID-19 test requirements that are currently in place when traveling from New Providence, Grand Bahama, Abaco, Exuma and Eleuthera. These travelers will be exempted immediately after full vaccination. Proof of full vaccination will be required."
Check here for complete details on Entry requirements to the Bahamas.
Visitors to Freeport, Grand Bahama Island, can start planning now with the assistance of great offers from island resorts and transportation providers.