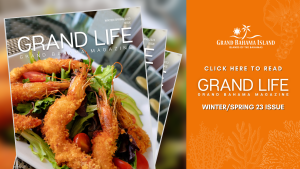 Grand Bahama Island Tourism Promotion Board Unveils Official Grand Bahama Magazine
FREEPORT, GRAND BAHAMA – The Grand Bahama Island Tourism Board celebrated the official launch of the Grand Life
Magazine with members of the tourism, aviation, hospitality, and commerce sectors on Feb 21 at the Grand Lucayan
Bahamas Resort. The Grand Life Magazine, which is the official magazine of Grand Bahama, tells the rich and diverse
story of the island and will be available at Bahamian Tourism and Consulate offices around the world, as well as in a
digital format.
Grand Life Magazine was developed by co-editors, Carmel Churchill and Nikia Wells, who are both Grand Bahama
natives, and will have an estimated reach of well over 500,000 readers.
"We were challenged to create a publication that would encapsulate the stories and people of Grand Bahama," noted
Churchill. "As Grand Bahamians who both have a great passion and deep love for the island, we wanted to share
authentic and heartfelt experiences."
Churchill added that the magazine will not only be an engaging look into Grand Bahama, but it will also provide tour and
travel partners with the tools to showcase what the island has to offer. "Grand Bahama has stunning natural beauty,
delicious food, beautiful accommodations, rich culture, amenities and attractions – and our job is to share that story in the
most authentic way possible. We invited all of our key stakeholders to the official launch event, to highlight that we are
dedicated to showing the world the wonder of Grand Bahama."
In addition to being shared with potential visitors, tour operators, travel industry professionals, real estate companies,
and investors via digital channels, the magazine will also be shared at international trade shows, travel events, Bahamas
Ministry of Tourism and Bahamian Consulate offices, worldwide.
Wells noted, "In this very first issue, we wanted to showcase real people, places and experiences on the island. We
highlighted the Smith's Point Fish Fry's 40th Anniversary, the one and only pickled conch salad down in West End, one of
our People-to-People ambassadors, delicious culinary finds, and stories about the real men and women who make the
island unique. Grand Bahama is a family island, a city and an eco-wonderland all rolled into one. And, it is a dream come
true to be able to showcase this beautiful island that we call home, on the world stage."
Ian B. Rolle, President of The Grand Bahama Port Authority & Acting Chairman of the Grand Bahama Island Tourism
Board, also shared remarks at the event and noted that the Grand Life was several years in the making. "Just to give a
little bit of history…The Grand Life concept was born in 2006 when a group of Grand Bahama stakeholders, under the
leadership of the Chairman, Willie Moss, came together in a think tank to conduct a S.W.OT. analysis of the island. This
was under the guidance of a marketing and promotions company called YPBR (Yesawich, Pepperdine, Brown and
Russell). In 2007 the Grand Life enculturation began with a company that worked on Disney projects called Ideas from
Orlando. Denise Adderley, our former Marketing Director, worked very closely with them assisted by Karenda Swain and
Sandra Russell from the Ministry of Tourism. Significant time, effort and money was invested in this brand name – The
Grand Life. Last year, Doncar Hospitality pitched us on the idea of a magazine that would captivate the attention of those
who loved us, and wanted to be assured by us, that we are still a great destination. We also wanted to inspire new
visitors, particularly investors and of course, our residents to love Grand Bahama, again. This magazine has met those
expectations and looking forward to exceed them."
Churchill also notes that the second issue of the Grand Life Magazine is already in the works and the Grand Bahama
Island Tourism Board has a number of new projects on the horizon. "The energy and excitement of this first issue has
accelerated the wheels turning for the second edition, and a number of new and exciting events, projects, and initiatives
that will be unveiled a bit later this year."