Posted by: carmel | May 4th, 2020
Nassau, Bahamas, Sunday, May 3, 2020— Hon. Dr. Hubert Minnis, Prime Minister, Commonwealth of the Bahamas addressed the nation, providing an update on the country's fight against COVID-19.
Prime Minister Minnis stated, "We are making progress in our fight against the COVID -19 virus.  The measures we have put in place to stem the outbreak are working. But we cannot as a country let down our guard.  There is still much work to be done in the weeks and months ahead."
"The 24-hour curfew from Monday 5 am to Friday 9 pm will continue as will the lockdowns from Friday 9 pm to Monday 5 am.  We have to continue to wear our masks to practice physical distancing as well as to wash our hands thoroughly along with other measures."
Prime Minister Minnis further provided an update to the country's phased approach to returning to normal.  The phased approached was first introduced on April 27th, 2020.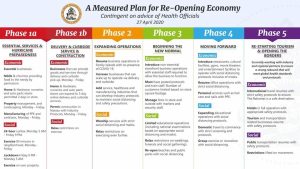 "Because of the progress we are making, I am pleased to announce today that effective tomorrow, May 4th, we will move to Phase 1b in the reopening of our economy.
This portion of phase 1 focuses on delivery and curbside service and construction.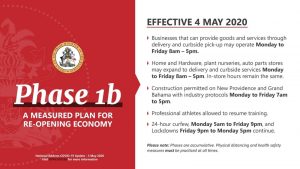 This phased re-opening is aimed at striking the right balance between permitting some further level of commerce to resume while still maintaining a vigilant national position promoting physical distancing and reinforcing the health and safety precautions necessary to mitigate community spread of COVID-19."  See National Address