Posted by: admin | December 30th, 2021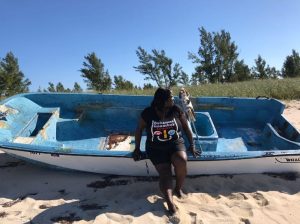 Meet Jojo, today she partially lives a city life in Freeport, Grand Bahama; however, she is longing for her holiday traditions in Sweetings Cay, on the Eastern End of the island, where life is returning to some form of normalcy after the ravages of Hurricane Dorian two years ago.  As she reminisces about her childhood Christmases, here's a story of her holiday traditions, as told by her.
Growing up as a child on Sweetings Cay, the Christmas Holidays were highly anticipated! It felt like preparations for the Big Day, Christmas Day, went on for months.
Located just to the east of Freeport, this quaint settlement is a 10-15 min boat ride from McClean's Town Dock, East End, Grand Bahama, to Sweetings Cay Dock.
The salt air, from the surrounding ocean, was always filled with excitement at Christmas time. Our preparations for the holidays were all island-style, native and homemade, with