Posted by: carmel | December 30th, 2021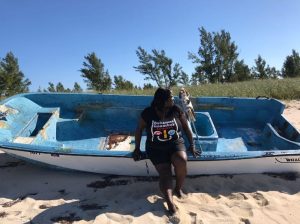 Meet Jojo, today she partially lives a city life in Freeport, Grand Bahama; however, she is longing for her holiday traditions in Sweetings Cay, on the Eastern End of the island, where life is returning to some form of normalcy after the ravages of Hurricane Dorian two years ago.  As she reminisces about her childhood Christmases, here's a story of her holiday traditions, as told by her.
Growing up as a child on Sweetings Cay, the Christmas Holidays were highly anticipated! It felt like preparations for the Big Day, Christmas Day, went on for months.
Located just to the east of Freeport, this quaint settlement is a 10-15 min boat ride from McClean's Town Dock, East End, Grand Bahama, to Sweetings Cay Dock.
The salt air, from the surrounding ocean, was always filled with excitement at Christmas time. Our preparations for the holidays were all island-style, native and homemade, with pride and love.
Our holidays were simple, yet creative. They began with the smell of a fresh-cut Pine Tree. Pine Trees were our traditional Christmas Tree, decorated with paper decorations, handmade ornaments, and string popped corn which we grew. Our Christmas lights were the warm glow of our Kerosene lamps, that cast flickering light displays on the floor and walls.
My one good pretty dress and pair of shoes were laid out days in advance for Christmas Day!
The kitchen was always bustling with activity during the holidays!  In the Rock Oven just outside the kitchen door fresh bread would be baking and warm butter waiting for the first slice. There was golden brown potato bread and coconut tart in the gas oven, and small cookies were made and beautifully packaged by me, for the other children in the community or visitors to our homestead.
The benny was harvested in October, put in a crocus sack, and placed in the sun to dry. With a stick, we hit the bag loosening the Benny grains from their pods.  On Christmas morning the Benny was sifted, cooked with sugar, and Benny Cakes were formed, cooled, and ready to eat. These Benny Cakes or Coconut Cakes represented a celebration or special occasion.
My grandmother made candies- mint candies pulled on wood and marble, flavored and cut, and carefully wrapped. They were also given as Christmas gifts.
Drinks for the holidays were flavorful and local, as we grew vine grapes which we made into homemade wine, and sugar cane wine from the sugar canes. Cream de mint was reserved for the gentlemen.
From October, the pigs were fed extra food to fatten them for Christmas dinner. On Christmas Eve the fresh pork, goat, or chicken, was prepped and whole pig began roasting on the open fire for Christmas Day and Boxing Day dinners.
Living in a Fishing Village, we did not have seafood at Christmas as it was an everyday meal for us, and the free-range yard chicken was prized as our Sunday or Christmas meals along
with ham and other fixings. A traditional plate would be peas n rice with salt beef, chicken, and a slice of ham. Dessert was canned peaches and baked cakes and sweets.
The arrival of the Mail Boat created a festive atmosphere at the dock. It came the week before Christmas-bringing passengers from Christmas shopping, and groceries – salt, salt beef, rice, flour, and sugar, our staple foods.  We would go to Nassau by mailboat early December, to purchase clothes and shoes (which were the school shoes for the following year). Clothes bought as Christmas Day and New Year's gifts were tried on and if needed, altered, by Mama on her foot pedal Sewing Machine but were not worn until Christmas Day- imagine the anticipation!
Visitation of family and friends on Christmas Day was the highlight of the holidays, walking throughout the village with Mama, Papa, and family, in your Sunday best- going from house to house, talking and giving Christmas greetings. They would offer food, breads, cakes and handcrafted gifts and we exchanged the same. Mum would send you to your family with holiday tokens for them.
Heard throughout the community was the sound of laughter, singing, and music which would have been a drum beating or a guitar playing. There would be an occasional party at the nearby Lodge Hall or backyard and after the Watch Night church service everyone would gather for souse. The battery radio would be played a little longer on Christmas Eve and Christmas Day as after the news, a few Christmas tunes, calypso and rake and scrape would be played.
Priests from Freeport, Father Sam and other priests, would come over to Sweetings Cay to conduct one 7am church service then leave the Cay for other services.
The weather was always cool with lots of sunshine, brilliant blue skies, seas were flat and calm, as the north wind swept through the creek indicating a comfortable December and beautiful "Christmas has arrived" feeling.
Yard cleaning was extra special for Christmas, as Papa would sprinkle sand in the yard, so it resembled snow, so we felt like we really had a White Christmas!
I have so many fond memories of the holidays on Sweetings Cay, celebrating Christmas as an island girl.
Wouldn't you like to experience an Island Christmas with white sandy beaches, Sunkissed blue skies, delicious native food, and other traditions as described by Jojo? Reflect on her time in Sweetings Cay and consider joining us this Christmas on Grand Bahama Island.  Early Booking Bonus Offers