Posted by: Meshell Britton | March 14th, 2019
Fritters. Conch Fritters to be exact. It's the only thing running on a loop in my mind. Until I actually feel my teeth break through the delicate crunch of a crust that protects the fluffy goodness within, I won't be content. The closer I get to the entrance the faster the loop plays. It's 6pm on a Wednesday and I'm at Smith's Point. It's a quaint settlement in Grand Bahama, better known as the home to The Bahamas' first Fish Fry. I'm here early enough that I can avoid a crowd but it's just enough time for me to rock out on my own at Penny's. My favorite fish fry stall.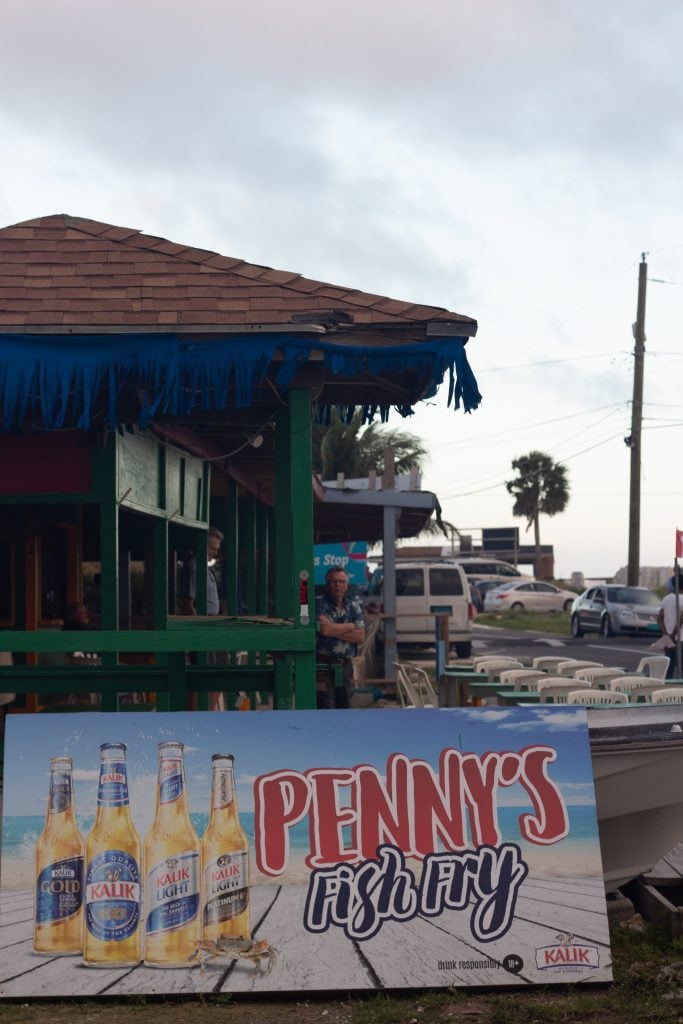 It's early. I've said this already but anyone that shows up at Fish Fry earlier than usual won't be greeted at Penny's with the traditional rhythm of rake and scrape. Not yet, at least. If you come early enough to see Ms. Penny prepping her food for the evening, then you're more than likely listening to the stylings of Sam Cooke or any other artist from the Golden Era of music. It's fitting though, because right now Mr. Cooke is providing a perfect soundtrack to me riddling off my order of Conch Fritters. I don't know much about history, but I know so much about the Biology of a perfect fritter – and Penny's has it.
The rush that I was in before I nabbed my fritters is no longer there, and immediately I'm calm. I realize now that the "Conch Fritter" loop playing in my head has slowed until it's only a distant ebb in my subconscious. I'm now calm enough to take in where I am, Taino Beach. Named after the original inhabitants of The Bahama Islands. Taino Beach in all of its beauty, is a physical reminder of how vast the sacrifices must have been when the Tainos had to relinquish their land.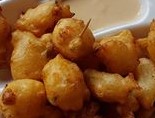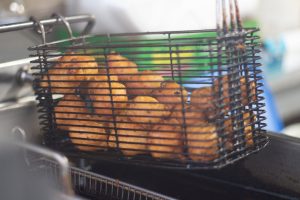 There's nothing quite like eating true Bahamian seafood while sitting on a sea wall with the wind picking up hints of salt water and blowing specs onto your face. That's me at this very moment.
After a long day of work, it's nice to break up the monotony of it all and remember where it is that I truly live. It's been a while since I've been able to catch a sunset, so sitting out here and basking in the glow of the evening golden hour is a treat for me.
I hear it now though. The beginning thrums of Bahamian music vibrating through the air as each stall begins to welcome clients hungry for more than just food. They crave the excitement that comes along with a good night of Coconut Rum and dancing.
It's an energy unlike any other. Any night at Fish Fry would be filled with consecutive "Mudda Sick" moments. Moments that make one look back on that particular night and leave a ghost of a smile on the lips. Moments that make the heart race just a little faster as you crave the taste of salt in the air, mingled with the soothing charcoal coming off of the grills surrounding the wave of bodies. This is an age old tradition. Set so firmly in the bones of all Bahamians that it's hard to think of an evening where Fish Fry wasn't a thing.
I've walked far beyond the stoop of Penny's and with my fritters now done I'm taking in the methodic movements of each and every stall owner. It's hard work setting up every week. You can see it on their faces, the thin sheen of sweat that covers their brows and the slight shaking of the hand when they lift a box that's just a little too heavy. They'll never tell you that though. As hard as this setup may be, many of these stall owners have been here for generations and there's a pride that comes along with operating one. I tip my proverbial hat to each and every one of them. They provide a cathartic release to tourists and locals alike.
Alongside the excitement of fish fry goers the stall owners have their very own personal reasons for being excited. Smith's Point is currently in the process of receiving a big upgrade that's almost completed. The pride that they show in their work is now being manifested in the form of infrastructural support and you can tell that proprietors cannot wait until the work is done. I'm excited for them.
Exploring the beginnings of the new seawall and seeing the repaving of a road that so desperately needed it gives me chills. It lets me know that there are things to look forward to in Grand Bahama. It's with this thought that I head towards my car to follow the familiar path home.
I'm gonna grab a shower and change out of my work clothes. It's 6:30 in the evening and Fish Fry has only just begun. I'll be back. Ash