Posted by: carmel | February 5th, 2020
Freeport, Grand Bahama Island, February 3, 2020……The Grand Bahama Island Tourism Board's (GBITB) representation of Freeport, Grand Bahama Island included partnership with the Office of the Prime Minister, Grand Bahama (OPM), The Grand Bahama Port Authority (GBPA) and several Island stakeholders.  The group's message focused on their stories of recovery and readiness to receive visitors to Grand Bahama Island.
Representatives from the Office of the Prime Minister – Grand Bahama, UNEXSO's Diving and Dolphin facilities, First Class Travel & Tours, H. Forbes Charter Services, Lighthouse Pointe at Grand Lucayan, Viva Wyndham Fortuna Resort and Pelican Bay Hotel were among the delegates.  Additionally, Bootleg chocolates were among the exhibitors, with Tru Tru Bahamian Arts and Crafts.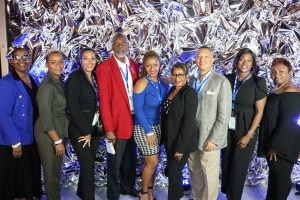 Mr. Ian Rolle, President GBPA and Acting Chairman/Treasurer, GBITB, was on hand for several meetings to emphasize the efforts undertaken to date to restore Freeport, which included the return of Sunwing's direct flights from Canada along with Bahamasair, Silver Airways flights from Fort Lauderdale and a number of other domestic carriers.'  Mr. Rolle stated that the island's achievements would not be possible without the collaborative approach taken by GBPA, OPM, GBITB and many island stakeholders.
Caribbean Travel Marketplace affords tourism suppliers the opportunity to meet face-to-face with wholesalers from around the world selling Caribbean vacation travel over the course of two days of business meetings.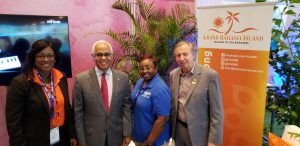 Caribbean Travel Marketplace is not a typical trade show, as the main objective is for suppliers and buyers to conduct negotiations that benefit the region.  Representatives from Grand Bahama Island were able to re-establish business relationships, formalize new partnerships and reinforce messages of the destination's recovery.
At the end of CHTA Marketplace, tour operators and journalists were afforded an opportunity to visit Grand Bahama Island, reaffirming details of what they had learnt in meetings previously.
Among the tour operators visiting the island were, Sunwing Vacations, Apple Leisure Group, several operators from France and the Bahamas' newest emerging market- Portugal.  Journalists from Travel Weekly, USA Today and other freelance writers, influencers and bloggers also had an opportunity to visit the island.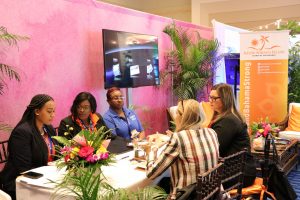 Overall feedback was they were pleased to see that the island had recovered so quickly, and the commitments being made to further its restoration. They had the opportunity to explore West Grand Bahama with West End Ecology Tours; and Freeport, Lucaya with Grand Bahama Nature Tours, accompanied by island ambassadors from the Ministry of Tourism and the Grand Bahama Island Tourism Board.
The trip was enhanced by the opportunity to take home island treasures from the Perfume Factory, island trinkets from Baha Gala and Rudy Sawyer's book – Grand Bahama Treasure & Tour Guide.
A highlight of the news shared during CHTA Marketplace was Carnival Cruise Lines awarding UNEXSO the prestigious "Caribbean's Leading Tour Operator" award, which recognizes the company that receives the highest ratings from both their passengers and onboard shore excursion staff for shore excursions conducted the previous season.
Viva Wyndham Fortuna received the 2020 Couples' Choice Awards from WeddingWire.
Also, Grand Bahamian restaurant Flying Fish, was named one of the Top 20 restaurants in the Caribbean by the esteemed culture magazine, Caribbean Journal.
Finally, Grand Bahama Island is looking forward to the results that will be announced on February 14th USA Today's 2020 Caribbean Readers' Choice Awards, where Grand Bahama Island earned four nominees in several categories – Beaches, Beach Bars and Restaurants. The nominees follow:
Best Caribbean Beach – Fortune Beach
Best Caribbean Beach – Gold Rock Beach
Best Caribbean Beach Bar – Tony Macaroni's Conch Experience
Best Caribbean Restaurant – Banana Bay Restaurant & Bar
The Grand Bahama Island Tourism Board will be measuring the success of its efforts by monitoring the bookings received via Special Offers created for Air and Sea from Silver Airways, Bahamas Paradise Cruise Line and Balearia Caribbean.  These special offers were served up to our primary buyers who will use these attractive enticements to help drive new business to Grand Bahama Island in 2020.
Tour Operators are particularly interested in the island's accommodations and were provided with an update, stating that as of January 7, 2020, 1,416 rooms are available on Grand Bahama Island, representing 85% of the room inventory (Pre-Dorian).  Several vacation rentals are also available, complimenting the current hotel and timeshare rooms on island.
On-Island Transportation and Attractions/Dive & Watersports
Forbes Charter Services, S & D Coach Tours, First Class Transportation and Tours, Paradise Cove, Reef Tours, Taxi Services, Hertz, Avis and other rental car services are available.

International Underwater Explorers Society (UNEXSO): Snorkeling and Diving operations are available. Retail Facility is fully operational.
Grand Bahama Nature Tours: Revised limited tours include canal-kayak & beach, Bicycle, ATV and Jeep tours are operational.
Garden of the Groves: Now open for business and fully operational.  Guided Tours are available.
Lucayan National Park & Gold Rock Beach: The park has reopened; access is now available to Gold Rock Beach. Clean-ups and bridge repairs are ongoing.
Pirate's Cove Zipline & Waterpark: Full operations restored; Zipline has been tested, recertified and upgraded with automated breaking mechanisms. It is up and running along with all other activities, including paddle boards, kayak, etc.
Bahamas Adventures is fully operational with the park and other activities.
Port Lucaya Marketplace reopened on October 18 with 85% of tenants. Anticipating vacancies being filled by end of first quarter; renovations will commence early February 2020 continuing throughout the year.
Ocean Motion Watersports is open. Reservations are mandatory; operations are limited.
Crystal Beach/Celebrity Eco-Adventures' Swim with Pigs Tour, beach and snorkel activities are all available.
Fragrance of the Bahamas Perfume Factory is open and operating; tours are offered from 10:00AM – 4:00PM.
Rand Nature Centre reopened on December 6, 2019 and hosted the 25th Annual Festival Noel.
Westend Ecology (Educational stingray, fishing and snorkeling tours) is operational with a maximum capacity of 6 persons per trip.
Blue Green Outdoors' tours of the Eastern end of the island are suspended indefinitely. The western heritage tour is operational and can accommodate up to 7 persons.
Caribbean Divers, Calabash Eco Adventures, Exotic Adventures, Grand Bahama Scuba, Lucaya Watersports, Paradise Watersports, Sunn Odyssey, are all open and operating.
Coconutz Cruisers is operating motorized bicycle tours.
Pinetree Stables (Horseback riding tours) is open for business.
Renu Day Spa is open and offering all services; hours are 9:00AM – 3:00PM Monday- Wednesday and 9am-6pm Thursday -Saturday.
West End Watersports reopened at a new location in the community of West End, Grand Bahama, offering day trips to Sandy Cay.
Restaurants
Bahamian restaurants Better To Serve You, Out Da Sea Bar & Grill, Dive-In Bar & Restaurant, Greek Express, Flying Fish Gastro Bar & Restaurant, Geneva's Place, Mary Ann's Restaurant, Merport Bistro, Ocean's Grill (Ocean Reef Resort), Pepper Pot Restaurant,  East Sushi Bar/Pier One Restaurant, Sabor's Restaurant,  Sire's Restaurant, Banana Bay Restaurant, The Sand Bar, The Stoned Crab Restaurant and Upstairs on the Bay Restaurant at Bell Channel are all open for business.
The Wednesday Fish Fry (Penny's, Outriggers and Da Bus Stop) in Smith's Point, including Gully Wash, Terry's Conch Stand, and Toads on the Bay in William's Town, are all back in business.
Tony Macaroni's Conch Experience at Taino Beach is open for business Sunday to Friday, from 12 noon.
Fast food restaurants Burger King, KFC, Subway, Wendy's, Pizza Hut and Marco's Pizza are open.
Health Services
The Rand Memorial Hospital, a full-service community hospital operated by Grand Bahama Health Services, provides acute and secondary care through a wide range of services, both surgical and diagnostic.
Due to the recent catastrophic and unprecedented Hurricane Dorian in early September 2019, the hospital was adversely impacted. Samaritan's Purse, a Humanitarian Organization installed an Emergency Field Hospital on property adjacent to the Rand Memorial Hospital, which ensured seamless provision of health care services.
Samaritan's Purse is a 40-bedded hospital, which has the capacity to serve more than 100 patients daily. It is resourced with an emergency room, intensive care unit, pharmacy, and an operating room to facilitate up to 10 surgeries per day.
The Emergency Medical Services (EMS) Department Is resourced with ambulances that have satellite radios connected to the Accident/Emergency & Urgent Care Centre and all clinics.
Across the island, a network of community clinics, also operated by Public Hospitals Authority, Grand Bahama Health Services, are staffed by doctors and nurses who provide primary health care services under the supervision of an assigned Clinical Manager. A resident doctor and/or nurse are available for emergencies during public holidays, weekends and after normal working hours.
For more information, and to assist with the recovery and reconstruction process on Grand Bahama Island, please visit the following sites: https://www.gbdisasterrelief.org/; https://rotary6990.org/; and https://www.bahamas.com/relief .