Posted by: carmel | December 6th, 2019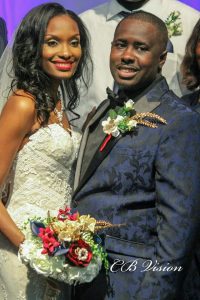 Freeport, Grand Bahama Island, December 4, 2019…… Grand Bahama Island welcomes Devarick Webb and his lovely bride Christina Dobbins, as the happy couple arrives for their honeymoon at the recently reopened Old Bahama Bay Resort & Marina.
Devarick Webb is the Travel Agency Owner, Dynamic Occasions LLC, based in Lithonia Georgia.  He attended the BTOs "Summertime in Freeport" show for trade and media in Atlanta last May, and at the close of the event he was invited to draw the winning business card for the Grand Prize — a four day, three-night trip to Old Bahama Bay Resort & Marina, a Stingray Experience with West End Ecology Tours, Limousine Transfer with H. Forbes Charter Services, and roundtrip airfare with Bahamasair from Fort Lauderdale.
No-one was more surprised and thrilled than Devarick when the winning business card he pulled turned out to be his own!
On July 24th Devarick selected his travel dates, choosing to make the trip his honeymoon, as he was getting married to his childhood sweetheart, Christina Dobbins on November 30th.  When Hurricane Dorian hit, Devarick, who has also worked in the disaster relief field for logistics and outreach ministry, volunteered to assist the Ministry of Tourism and the Atlanta Consul General's office for the Bahamas with the Hurricane Relief effort, mobilizing the Atlanta travel community in support of the islands.
After learning that the resort was not destroyed, Devarick and Christina were determined to still spend their honeymoon on Grand Bahama Island, finally claiming his prize trip to the Old Bahama Bay Resort.  Understanding that there was still devastation, the couple decided to spend time volunteering while here, during their honeymoon.
"We are honored that Devarick and Christina are sharing the most memorable experience of their lives with us," said Ian Rolle, Acting Chairman, the GBITB's Board of Directors.  "We welcome them here today and wish them many happy and blessed years together.  We are also truly grateful for the support and love they have shown to our island, in so many ways."