Posted by: gaurikibler | August 17th, 2015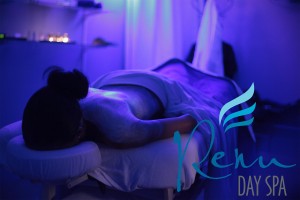 If you are looking for an experience that will leave you relaxed, renewed and rejuvenated then Renu Day Spa is a the place to go. Conveniently located on the entire 2nd floor of the Millennium House in the heart of downtown Freeport, this spa is the favorite pampering hotspot for local business professionals, island residents and visitors who wish to escape to a place of inner peace and physical revitalization.
Multiple reviews on sites such as Tripadvisor speak of the outstanding service that Renu customers have come to know. Visitors from Los Angeles, California to Boston, Massachusetts, to Oslo, Norway, have rated Renu Day Spa as a 5 star experience using phrases like, " Absolutely Wonderful", " Reiki in Paradise", and "Awesome Spa Experience" to describe the service they received from the staff at this recently revealed well kept island secret.
The Renu team consists of highly skilled professional aestheticians, massage therapists, hair and nail specialists and holistic healing practitioners, offering everything from facials and massages to full Reiki treatments and reflexology. They also have a full service hair and nail salon.
For those who are on a wellness path and would like to plan some learning activities on their vacation, individual and group instructional sessions are also offered at the spa. These sessions are custom designed and can include classes in mediation, certification in all levels of Reiki, basic Feng Shui and other areas upon request. Actual mediation sessions can also be designed for specific healing purposes or for individual spiritual growth.
Renu Day Spa is truly unique in what it has to offer to its extensive local client base on Grand Bahama and all who come to visit. The sheer diversity of services that are offered under one roof and executed with such unprecedented customer care makes this spa extremely special.
The moment you walk in to the spa through the frosted glass doors, you feel a sense of peace and positive energy that exudes from the team of Renu professionals and the beautifully decorated space that surrounds you. From the aromatherapy in the waiting area to the specialized lighting in the all of the treatment rooms, your senses are soothed while your mind starts to relax and free itself from any remaining fragments of pre-vacation stress. The welcoming staff always greets you with a genuine smile while offering you a choice of herb tea or fresh bottled water while you relax for a moment prior to your treatment.
So if you are looking for somewhere to unwind on that cloudy day or if you are looking for services such as the ultimate massage, anti aging facial, energy balancing Reiki treatment, full set of sculpted nails, prodigious pedicure, full body wax, new hair style, a set of eyelash extensions, or a meditational instructional session, Renu Day Spa can cater to your needs.
For additional information you can visit the Renu Day Spa website here or like their Facebook page at www.facebook.com/relaxatrenudayspa . They can also be contacted at 242-352-RENU (7368) or 352-7366 or emailed at renudayspabahamas@gmail.com.