Posted by: carmel | March 9th, 2020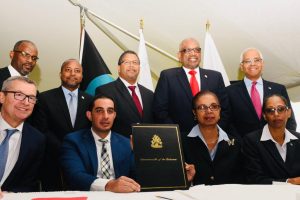 Freeport, Grand Bahama Island, Bahamas – March 4, 2020 – An estimated 3,000 direct
and indirect jobs are expected to be created following the recent sale of the Grand
Lucayan Resort and Casino. The Heads of Agreement (HOA) signing took place on
Monday, March 2 between Prime Minister Dr. Hubert Minnis and Bahamas Port Investment
Limited, a Royal Caribbean and ITM partnership. The $250 million investment by the Group
should go a long way in revitalizing the hurricane-ravaged island's economy, and
provide a myriad of economic and employment opportunities for Grand Bahamians.
Ian Rolle, Acting Chairman of the Grand Bahama Island Tourism Board (GBITB), lauded
the government for its vision and foresight in purchasing the property temporarily to avoid
job losses and negotiate such a beneficial agreement. "At the GBITB, we're aware of the
important role the Grand Lucayan properties have played in the economic life of Grand
Bahama Island for many years, and wish to commend Royal Caribbean Cruise Line and
the ITM Group for making such a significant investment in the future of our island," noted
Rolle.
As a result of the investment, thousands of direct and indirect jobs will be created in
construction as well as at the hotel and cruise port. Residents of Grand Bahama Island
will be able to reap the benefits of capital investment, employment opportunities for
Bahamian workers in the tourism and construction industries, increased commerce for
local businesses in the Port Lucaya Market Place, taxi services and tour operations.
This increased revenue will also enable the government to fund much needed
infrastructural programs. Additionally, training programs will be offered for Bahamians
through RCCL Training Academy as well as opportunities for small businesses and
Bahamian entrepreneurs, including those producers of Bahamian products.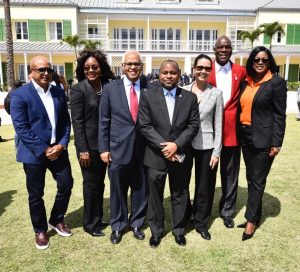 Given the island's proximity to the Florida market, it is anticipated that this investment will
promote sustainable economic growth and development on Grand Bahama. This
investment will also expand and enhance the experience for cruise passengers to The
Bahamas.
Elements of the project include Harbour Village, which is the enhancement and
expansion of the cruise port area, featuring three additional berths, retail space, a beach
and wellness area as well as shore excursions.
The Lucaya Property will include a 526-room hotel, retail space, 40,000 square-foot
convention centre, water and adventure park and other amenities. A multi-modal
transportation hub is expected to improve the infrastructure in and to Grand Bahama for
water ferries and additional ground transportation, and new shore excursions featuring
local businesses are also part of the development.
With the participation of Bahamian companies, development plans for Freeport also
include a multi-modal transportation hub with infrastructure for water ferries and ground
transportation including buses, vans and jeeps. Holistica Destinations will work closely with
local business owners and entrepreneurs as partners with opportunities both at Harbour
Village and the Lucaya Property as well as additional shore excursions in Grand Bahama.
The construction of the Harbour Village and Lucaya Property is expected to take 24
months. "As this major new development gets underway, we remind our visitors that we
have over 1,400 hotel rooms, over 40 excursions and attractions and many options for
traveling to GBI by both land and sea," noted Rolle. "We encourage travelers to visit
www.grandbahamavacations.com and take advantage of the special promotional
deals and offers, that make this the best time to plan your vacation to Grand Bahama
Island."