Posted by: gaurikibler | May 5th, 2015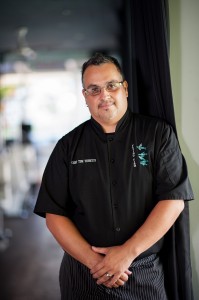 The Finest Dining in the Caribbean
With unmatched service & attention to detail, Flying Fish offers a blend of traditional & modernist cuisine techniques not used anywhere else in the Bahamas. Focusing on local seafood & indigenous ingredients prepared with the utmost skill & creativity. Flying Fish boasts the Bahamas only female Certified Sommelier, Rebecca Tibbitts.  Chef Tim Tibbitts is named in the Top 25 Chefs for 2014 in the Caribbean by Caribbean Journal. The restaurant has also been named one of the Top 10 in the Caribbean by TripAdvisor, is Fodor's recommended for Grand Bahama Island and has been awarded 4 Diamond rating by AAA-The first restaurant in Grand Bahama history to achieve this honour.. The Caribbean's finest waterside dining..
And now you can savor the taste at home with Chf Tim Tibbitts' recipe for Grilled Calamari in Brown Butter.  Enjoy!
Grilled Calamari in Brown Butter
 "This recipe in one form or another has become a signature for every restaurant I have ever worked for. I was an apprentice when I was given an opportunity to add my own dish to a menu and this was the dish."
Serves 6
2 lbs cleaned calamari tubes and tentacles
½ lb unsalted butter
2 heads roasted garlic cloves kept whole and not squashed
6 ripe plum tomatoes, insides removed and cut into small dice
½ cup Kalamata olives, pitted and cut in half lengthwise
¼ cup capers
½ cup chopped parsley
3 cloves fresh garlic chopped fine
½ medium red onion finely diced
1 tablespoon sambal oelek chili paste
½ cup extra virgin olive oil
3 whole lemons cut in half to expose the round face, grilled
Make sure calamari is well cleaned, removing the quill from the tubes and the beak and eyes from the tentacles. Cut the calamari across the tube leaving a small piece attached. The finished cut should resemble a slinky. Place the prepared calamari, chopped fresh garlic, red onion, sambal and olive oil together in a bowl to marinate for a couple of hours.
Meanwhile, in a small sauce pot, cook the butter over medium heat until the milk solids begin to change to a golden brown colour and the butter begins to smell nutty. The longer you can hold out before taking it off the heat the better the flavor you will achieve. Be careful though as it burns quickly and turns bitter if you go too far. Remove from the heat to a metal bowl to disperse the heat and stop the cooking process. Do not refrigerate unless as a leftover.
Remove calamari from marinade and season with kosher salt and black pepper. Grill over very high heat for 45 seconds per side, until the calamari begins to curl and tighten up. Do not overcook the calamari or it will become tough as rubber bands. Meanwhile, reheat some of the butter with roasted garlic cloves, capers, olives and tomato just until hot. Place grilled calamari on the plate and spoon butter and accompaniments over the top. Serve with grilled lemon to finish.
For more information on Flying Fish Restaurant visit:  www.flyingfishbahamas.com