Posted by: gaurikibler | May 19th, 2015
Goombay Summer And Junkanoo Summer Festival Provides A Summer Long Celebration of Bahamian music, dance, food and culture
GRAND BAHAMA ISLAND, JUNE 30, 2015- Come July, the Ministry of Tourism, Grand Bahama will launch the island's most exciting Summer Festival Experience of 2015.
Grand Bahama's Summer Experience features eight weeks of rich, cultural excitement and expressions of Bahamian heritage through Goombay Summer and Junkanoo Summer Festivals.
Kicking off the festivities will be the Goombay Summer Festival, July 2nd– 30th, 6:00p.m. – Midnight.
The festival is set for Thursdays at Taino Beach, with the exception of a special Friday celebration on Independence Day, July 10th.
Residents and visitors can enjoy conch and coconut demonstrations, nature walks, bush tea tastings and the ministry's signature People-to-People experience.
But the Summer Festival Experience doesn't end there.
The Junkanoo Summer Festival, an exhilarating street festival, continues the thrilling summer experience on Sunset Village at Eight Mile Rock, July 31st– August 21st and in West End, August 1st– 22nd.
Attendees can enjoy the best of the west, with Eight Mile Rock's signature Fish Fry experience and the nostalgia of the West End Move.
Over the course of the 4 weeks of Junkanoo Summer Festival, junkanoo groups will be participating in competitions in the following categories: music, choreography, costume.
The entire Summer Festival Experience, beginning with Goombay Summer Festival, July 2nd– 30th and Junkanoo Summer Festival July 31st– August 22nd will be a massive fusion of junkanoo rush outs and cultural expression for the entire family.
Ministry of Tourism's Director for Grand Bahama Island Betty Bethel says the Summer Festival Experience is rolling out at a time when Grand Bahama Island moves into one of its more successful tourism seasons.
She adds that with increased occupancy, international air arrivals, cruise stay overnight business and room revenue, it's now more necessary than ever to improve the product offering of the destination and enhance visitor experience.
Through the continued support of the Grand Bahama Island Tourism Board, the event's title sponsor, and other contributing partners, the 2015 Goombay Summer and Junkanoo Summer Festivals are sure to make this July one to remember.
Here are a few snapshots of last year's spectacular event!
  Visitors enjoying the festivities of Goombay Summer Festival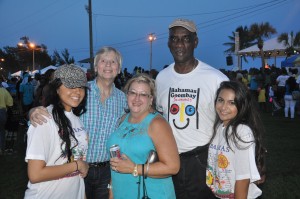 Royal Bahamas Police Force Marching Band performance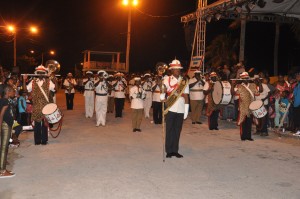 Live Entertainment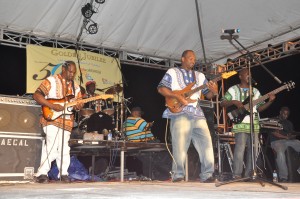 Junkanoo Dancers performing at Goombay Summer