Posted by: admin | January 12th, 2021
Special Extended Stay Offers Available From Taino Beach, Paradise Cove, Flamingo Bay & Grand Bahama Villa Rentals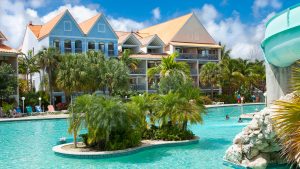 Freeport, Grand Bahama, Bahamas,…After what has been a challenging year, an extended winter escape to a sun, sea, and cultural destination is undoubtedly an appealing way to welcome in a new year and new opportunities. Due to its proximity to mainland USA, convenient travel connections, beautiful climate, and variety of land and sea attractions, Grand Bahama possesses all the hallmarks of that special getaway location. Also, as more people are working remotely, it presents a special opportunity for visitors to extend their stays and work from home in a tropical paradise.
In an effort to attract extended-stay visitors, The Bahamas has launched the Bahamas Extended Access Travel Stay (BEATS), which is an initiative that allows professionals and students to work and study across the country's 16 islands for up to a year — and the country is putting an emphasis on island-hopping in order to explore the country in new
ways. The total cost to apply for and obtain a BEATS permit is $1,025. College students wishing to apply will be required to pay $525, inclusive of the application and permit fee.
Several properties are welcoming extended stay visitors with special monthly and quarterly rates. The Taino Beach Resort is running a Life's A Beach promotion, where visitors who spend 20 days or more get a 50% discount on the standard room rate. Book by April 30, 2021 and travel by December 31, 2021, to take advantage of this great deal.
Paradise Cove, a lovely collection of one- and two-bedroom beachfront villas directly across from Deadman's Reef with its excellent snorkeling and underwater treasures, is offering a monthly rate of $1,500 and an extended quarterly rate of $4,225. The rate is inclusive of water, cable, snorkel gear, and the use of kayaks and paddleboards.
Flamingo Bay Hotel & Marina is comprised of 64 clean and comfortable guest rooms overlooking the deep blues of the ocean and the marina. This quaint hotel is conveniently located just minutes from downtown Freeport, and a five-minute scenic water taxi ride from their full-service marina to the Port Lucaya Marketplace. With a monthly rate of $1,800, a Convenience Store, Laundry, Ocean Front Restaurant and Watersport Activity Center are all on-site.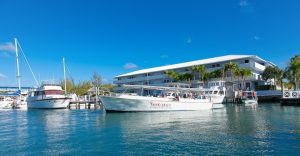 Families and groups traveling together with social distancing as a priority may find a stay at a private home to be the most amenable solution. Grand Bahama Villa Rentals represents properties from ultra-luxury estates to luxury villas with private boat docks, beautiful spacious homes and condo rentals. They are the perfect escape for a long weekend getaway or an extended stay.
Visitors to Grand Bahama will find a host of exciting excursions and tours to experience once on the island. The International Underwater Explorers Society (UNEXSO) is a world-class aquatic institution that offers the thrill of swimming with dolphins and diving with sharks. Grand Bahama Nature Tours has been one of the leading Eco-tour operators on Grand Bahama for the past twenty years; they operate kayaking, biking, jeep and bird watching tours. They take pleasure in acquainting visitors with the flora, fauna, history and culture of the islands. Other options for amazing adventures are H. Forbes Charter Services, who offer unique tours such as Swimming with Pigs, East End Cave Tours, a Bonfire on the Beach and a Combo City jaunt; and S & D Tours who offer islandwide tours, transportation, ATV city tours and other specialized tours.
The Grand Bahama International Airport at Freeport, which is in the midst of a temporary terminal expansion project, has remained open and is fully operational. The airport is now accepting international flights including Bahamasair and Silver Airways out of Fort Lauderdale, Florida, and American Airlines out of Miami, Florida.
As a reminder, the Bahamian government's entry requirements for visitors, which came into effect on November 1st. 2020, include:
Obtain a COVID-19 RT PCR test five (5) days prior to arrival.
Apply for a Bahamas Health Travel Visa at travel.gov.bs
For the duration of the visit, complete a daily online health questionnaire for symptom tracking purposes.
Take a COVID-19 Rapid Antigen Test on Day 5 of the visit (unless departing on day 5)
Always wear a mask and always social distance in public places.
In addition, as of November 14th 2020, all visitors will be required to opt-in to mandatory COVID-19 health insurance when applying for their Health Travel Visa. The insurance will cover travelers for the duration of their stay in The Bahamas.
It is recommended that all travelers interested in visiting The Bahamas review requirements applicable to each member of their party at Bahamas.com/travelupdates before booking a trip, to determine what steps need to be taken to be granted entry.