Posted by: carmel | March 10th, 2021
By: Ashleigh Rolle
The elephant in every travel-related room has been Covid-19. As an island that has not only depended on tourism but has wholeheartedly welcomed it for decades, Grand Bahama is more than ready to welcome visitors once more. Covid protocols being put in place by the Government have ensured that cases have tapered off and every precaution in social settings has been taken.
With so much changing around the world, and everyone trying to get back into the swing of what it means to travel, it's really a blessing that Grand Bahama hasn't forgotten one of the truest meanings of happiness, food. Grand Bahama has always had a lively culinary scene. Offering the best in traditional Bahamian food, each restaurant gives a unique dining experience coupled with exemplary service.
So, let's take a dive into which restaurants you can look forward to making your next trip your best one.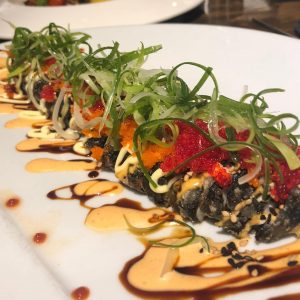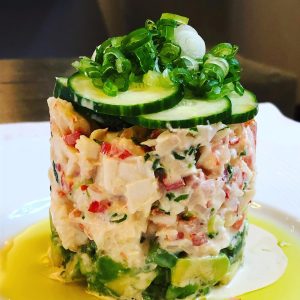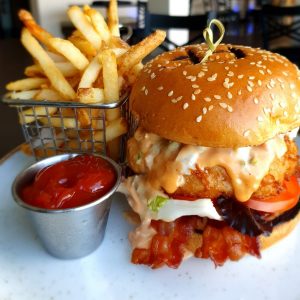 Listed as one of the top restaurants in the Caribbean by The Caribbean Journal, Flying Fish Gastro Bar and its Head Chef Tim Tibbits offer up some of the best food in town. Situated on one of the Lucayan Canals, Flying Fish offers top-tier food and beautiful views to match. With an ever-changing menu in such a casually chic environment, Flying Fish finds a way to strike a delicate balance between fine dining and a relaxed atmosphere. Every Sunday, Tim can be found on the patio serenading his diners, adding to the chill ambiance that Flying Fish is known for. Offering everything from their famous lobster tempura rolls to weekend brunch, Flying Fish should always be a top 5 on any visitors list.
Many would know of the devastating Hurricane Dorian of September 2019. Bishop's Bar and Restaurant in East Grand Bahama is a testament to the resiliency of not just Bahamians but Grand Bahamians. Mere months after Hurricane Dorian blew through the Northern Bahamas, Bishop's Bar and Restaurant worked tirelessly to rebuild their restaurant and maintain their position as one of the top restaurants for traditional Bahamian food in East Grand Bahama. Bishop's is one of the oldest restaurants in Grand Bahama located directly on the eastern coast of the island. If you love sun, sand, and sea, a trip to Bishop's in the East will always be worth it.
 Located in the center of Downtown, Merport Bistro is our very own taste of Europe. As a favourite among the locals, Merport Bistro provides the perfect fine dining escape for anyone looking to amp up their lunch options. A quaint restaurant, Merport is a throwback to the early days of Grand Bahama, built on international development and cultural diversity on the island.
As the new kid on the block, Caribbean Barrel has been making waves in all of the right ways.
Offering seafood platters at the amazing Harbour as well as energy-fueled entertainment in the form of theme nights and Karaoke, Caribbean Barrel has caught the eye of both visitors and locals alike. Quickly becoming a fan favourite on the island, a meetup at this bar and restaurant is sure to always end in nothing but happy memories.
Garden Cafe at The Garden of The Groves
Have you ever wondered what it's like to eat in a hidden oasis? The Garden Cafe at The Garden of The Groves is the closest thing you'll find to a copperfield-esque environment. Nestled in the heart of the Garden of The Groves, The Garden Cafe provides an escape like none other after exploring the vast property and the animals on it. Offering light sandwiches and amazing Bahamian favourites like conch fritters and cracked conch, The Garden Cafe is the perfect watering hole after a day of adventure.
Fine dining doesn't have to be stuffy and Sabor proves that. Located on the beautiful Pelican Bay property, prepare to sink your teeth into the best lobster you've had on this side of the Atlantic. Overlooking the bay, Sabor provides the perfect view of boaters going out to sea and coming back home. Sabor offers contemporary cuisine for new-age diners with just the right amount of flare. Finding a way to integrate international recipes with local ingredients is one of the things that has made this restaurant one of the top restaurants on the island for well over a decade.
Grand Bahama has navigated its fair share of adversity, but consistency in service has always been at the forefront of all those working in our various service industries. Social Distancing has been key to ensuring that numbers in Grand Bahama have been competitive with those across the region. With regular flights to and from the island as well as consistent Covid Tests being issued to service workers and patrons alike, Grand Bahama is more than ready to welcome our visitors back to the island with open yet socially distant arms.
Which restaurant will you eat at first?