Posted by: admin | July 5th, 2021
The Grand Bahama Island Tourism/Promotion Board Sponsors New Signature Offshore Fishing Event
FREEPORT, GRAND BAHAMA– The inaugural BattleGround Bahamas Yellowfin Tuna Fishing Tournament took place June 24-26, 2021, at the Grand Bahama Yacht Club.
The two-day tournament attracted 16 participating teams, including four international entrants.  Alex Saunders, Tournament Director said, "The tournament was a good way to put Freeport back on the map and to make sure that everyone remembers us".
Saunders added that "Although only four American boats entered, this is one of the most Bahamian/American mixed tournaments that has happened in the recent history of GB".
One of the main goals of the tournament was to bring together members of the offshore fishing community by promoting comradery through competition and based on the feedback of event participants that goal was accomplished.
The teams braved choppy seas on day 1 with many battling for more than 10 hours each day to see who would bring in the biggest catch. At the end of the two day's the results came in.
The winners were chosen based on the aggregate weight of their catch over the two days.
In 3rd place was Murderize (weight 65.4lbs), catching the biggest Mahi and Junior Angler prizes; 2nd place was Waugh-Hoo (weight 88lbs); and 1st place was Yea Ya Sea (weight 123lbs), claiming $13,450 in cash, along with a Garmin prize for largest Tuna and Calcutta.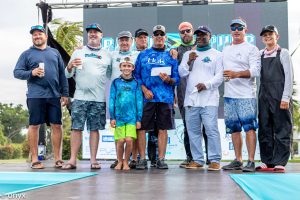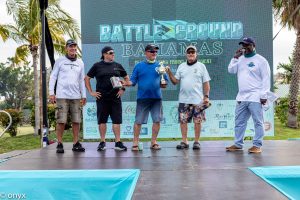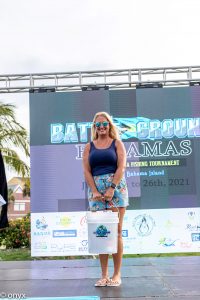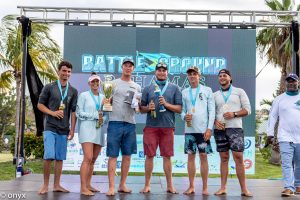 Tom Paine, Captain of Yea Ya Sea, shared that the most exciting part of the tournament for him and his team was when they caught their biggest fish, a 64.6lb Yellowfin Tuna. Payne shared that the six-member crew were all under the age of 22 and have been fishing together for a number of years.
Tanya Griffin, international entrant, with Game Over Fishing, won the best female angler competition.
The event attracted the likes of Pelagic Gear, a premium, high-performance brand dedicated to those that live, eat, sleep and breathe the ocean lifestyle to enter a fishing team of their own.
This was the first tournament in the Bahamas that Pelagic entered an all-female fishing team. Team 'Pelagic Reel Gals' consisted of a mix of both Bahamian and American anglers and crew.  The team was co-sponsored by the Grand Bahama Island Tourism Board and partnered with Brittney Baldwin of Reel Gals, facilitating an authentic people-to-people experience between international and local fishing communities.
Baldwin acknowledged that this partnership set a precedence for next year's event. "We hope to have Pelagic back onboard for an even bigger BattleGround Bahamas event next year. Pelagic is such a fantastic and supportive brand, not only did they sponsor our team, but also sent over official Pelagic gear, hats, shirts, shoes, sunglasses and other goodies to be shared out amongst our local island community".
She added that "Reel Gals hopes to get more Bahamian ladies involved in fishing and we really hope to have more female anglers and Florida teams signed up and coming over to Grand Bahama for more tournaments".
The Pelagic brand itself was inspired by a love for the offshore lifestyle, Grand Bahama is less than 95 miles from Florida and our waters are teeming with Pelagic fish such as Marlin, Tuna, Mahi and Wahoo. It was the perfect match for this tournament.
Pelagic Pro Team Angler Amber Merchant shared her excitement to be a part of the inaugural BattleGround Bahamas Tuna Tournament and expressed how she couldn't wait to come back and fish these waters!
Members of the Grand Bahama Island Tourism Board were pleased with the turnout. Carmel Churchill acknowledged that "This inaugural event has helped to reposition Grand Bahama as a primer offshore fishing community". She continued by saying, "We see great potential for this event to become the catalyst that drives domestic travel, particularly for family island boaters."
As a part of the strategy to drive widespread interest in the destination, GBITB, through its influencer program secured the partnership of domestic and international social media influencers, who helped in capturing content for future promotional efforts.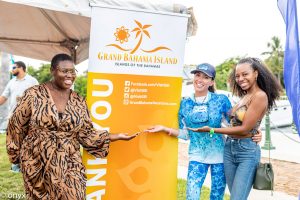 Participants in the program focused their coverage on their travel experience to Grand Bahama, via Bahamasair, along with showcasing the product offered at their host hotel, Taino Beach and Flamingo Bay Resort.
The destination showcase also included hosted excursions, including but not limited to Viva Wyndham Fortuna Beach, Grand Bahama Nature Tours, UNEXSO Dolphin Encounter, Old Bahama Bay, local townships of Eight Mile Rock, Holmes Rock, Deadman's Reef and Williams Town.
The GBITB also ran social media ads, targeting the domestic and South Floridian fishing/boating community.
Churchill added, "In the coming months, we will begin the preliminary process of organizing boating operator day trips to Grand Bahama from family islands and cays within a 100-mile radius".
Additionally, the GBITB donated 50 locally made misting hand sanitizers to event participants, and an additional 100 to the Family Fun Day. The antiseptic spray sanitizer, produced by the Fragrance of The Bahamas, Perfume Factory, contains 75% alcohol, effectively sanitizing skin surfaces and killing 99.9% of germs. The sanitizers are 20ml / 0.68 fl. oz misting spray, with a signature tropical scent and unique slim credit card shape, designed to comfortably fit into your back pocket.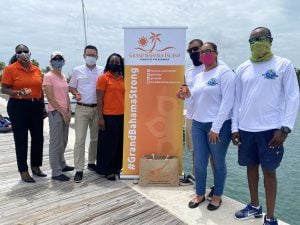 To learn more about the BattleGround Bahamas Yellowfin Fishing Tournament, or to see a visual highlight of the inaugural event, visit www.battlegroundbahamas.com, or @BattleGroundBahamas on Instagram.