Posted by: gaurikibler | June 14th, 2010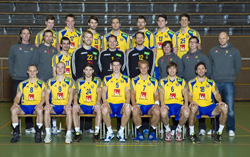 FREEPORT, Grand Bahama – The Swedish National Handball Team has chosen Pelican Bay at Lucaya, Grand Bahama, as the destination for a training camp from June 13-18, a first for the island. The 40-strong team will combine a series of hard workouts and weight training in the gym under the leadership of Coach Errol Bodie while also taking the opportunity to tour Grand Bahama and experience what it offers.Team Handball is a major well-known sport in Europe, but relatively small in North America. After Soccer, it is the biggest team sport in Europe, ahead of both ice hockey and basketball.
An indoor seven-a-side sport, it is a cross between lacrosse and basketball. It has been an Olympic sport since 1972. After the team's stay on the island, members will travel to San Juan, Puerto Rico for matches against the Puerto Rican Handball National Team. Sweden is host of the 2011 World Championships, the biggest sporting event in Europe for 2011.
Pelican Bay's mother company, 'Pandox', is very supportive of the national handball team, and it is with these contacts that the hotel was able to attract this team to Grand Bahama.
"Sports tourism has enormous potential for Grand Bahama," said Magnus Alnebeck, General Manager, Pelican Bay at Lucaya and also Chairman of the Grand Bahama Island Tourism Board. "Last year, we were hosts of the 29ers and 49ers class World Championships in sailing. Our facilities can be used for these sorts of camps almost year-round. We are very happy to have created an interesting program for the Swedish National Handball Team, together with our partners, Coach Bodie, Grand Bahama Fitness Centre, Reef Tours, Underwater Explorers Society and the Ministry of Tourism."
Article by The Nassau Guardian
Thursday June 10, 2010