Posted by: carmel | December 19th, 2019
GRAND BAHAMA ISLAND – December 18, 2019 – Travelers are invited to experience the island-inspired food, Junkanoo-style entertainment and the warm hospitality of Grand Bahama Island which has seen a number of revitalized developments following the passage of Hurricane Dorian.
According to Ian Rolle, Acting Chairman, Grand Bahama Island Tourism Board (GBITB) Board of Directors, the island is pleased to welcome restored and enhanced transportation services as well as additional new offerings at existing hotels and attractions, making Grand Bahama Island once again a much sought after destination. "The resumption of air service from the United States following a successful TSA/BCAA review, coupled with our seasonal service from Sunwing Airlines and scheduled cruise and ferry service, make Grand Bahama Island more accessible this Winter season," notes Rolle. "We are continuing to develop and improve our tourism product to ensure the needs of our visitors are not just met but exceeded".
Highlights of some of Grand Bahama Island's restored and revitalized developments include:
 Airlift
Sunwing Airlines
The Grand Bahama airport on Saturday, December 14, welcomed the return of Sunwing Airlines back to the island. Some 189 passengers from Montreal and Toronto, Canada, got the "royal treatment" when the flight landed at the airport and they were ushered into the refurbished FBO building, which will temporarily operate as the hub for international and domestic flights.
In addition to being greeted by government and tourism officials including Minister of State for Grand Bahama, Senator Kwasi Thompson; Minister of State for Disaster Preparedness, Management and Reconstruction, Iram Lewis; Deputy Prime Minister, K. Peter Turnquest and Minister of Agriculture and Marine Resources, Michael Pintard, the passengers were treated to the sweet sounds of Junkanoo.
Sunwing will provide two flights to Freeport from Montreal and Toronto, each Saturday through April 2020.  That amounts to about 400 visitors to Freeport each Saturday since Hurricane Dorian impacted Grand Bahama in early September.
Bahamasair
Effective December 16, Bahamasair has resumed regular scheduled international commercial flights to Florida from Freeport, Grand Bahama. Daily flights (except Tuesday & Wednesday) are now available for bookings.  Travelers departing Freeport should note that check-in for all flights has been relocated to the Fixed Based Operation Building (FBO), at the Grand Bahama International Airport. Travelers are reminded that persons wishing to travel to Ft. Lauderdale must present a valid U.S. Visa for processing by U.S. authorities upon arrival in Florida, while those wishing to travel to Florida from the Islands without a U.S. Visa will have to transit through Nassau.
Silver Airways
Starting December 19, Silver Airways will resume service to Freeport, Grand Bahama. Silver Airways will now offer daily flights between Fort Lauderdale and Freeport every day except Tuesdays, with two flights per day on Saturdays.
"We are thrilled to resume the necessary and much needed service to two more islands in The Bahamas following Hurricane Dorian," said Silver Airways Senior Vice President of Commercial and Finance, Pedro Motta. "The best way we can continue supporting our fellow neighbors in The Bahamas is to travel to their many fine islands and patronize their hotels and resorts, restaurants and attractions."
Sea Transportation
Baleària Caribbean
Visitors to Grand Bahama Island also have the option of traveling via sea, courtesy of a fast-transport service linking Fort Lauderdale (Florida) and Freeport, Grand Bahama. The fast ferry connecting these two ports has a 650-person capacity and a maximum speed of 38 knots—35 for service—with the journey taking two and a half hours. With five weekly services programmed from Port Everglades to Freeport (Tuesday, Thursday, Friday, Saturday & Sunday), the number of connections could increase based on demand. Baleària Caribbean's fast ferry provides a variety of comfortable seating as well as a bar-cafeteria, Wi-fi, a store, a pet zone and special family services.
In recent years, the shipping company has invested more than 8.5 million Euros to install new and more efficient Caterpillar engines, in addition to fully reforming and refurbishing all interiors to guarantee greater travel comfort.
 Bahamas Paradise Cruise Line
Bahamas Paradise Cruise Line has resumed commercial operations with two-night round-trip sailings from Palm Beach (Florida).  On its return to Freeport in late September, the company became the first cruise line to have brought leisure travelers back to Grand Bahama following Hurricane Dorian.
 Bahamas Paradise Cruise Line is currently offering a flash sale on its "Get Nauti" offer, giving travelers more reasons to book an escape to paradise this holiday season.  For just $99 per person, guests who book sailings to Grand Bahama Island – departing now through May 31st, 2020 – will receive 50 per cent off the second guest.  In addition, travelers will enjoy FREE "Nauti Perks", including:
10 drinks*
$10 casino play
15 percent off spa or shore excursion
Interior and ocean view staterooms
Children ages 12 and under sail free
*This offer is only available for a limited time.
Hotels
Viva Wyndham Fortuna Beach Resort
Effective December 10, visitors to Grand Bahama Island can enjoy Viva Wyndham Fortuna Beach, which has reopened its doors. Viva Fortuna is situated overlooking a 1,200 meter stretch of white sand and crystal-clear water beaches; a magical place you can only summon in your wildest dreams. This is a setting overflowing with serenity in heavenly surroundings, ideal for families who wish to create memorable vacation moments.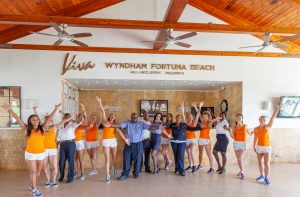 Flaunting one of the most fabulous beaches, and in close proximity to magnificent attractions, Viva Wyndham Fortuna Beach is the quintessential destination for family vacations or a wedding blessed by its celestial Caribbean backdrop. Enjoy all the splendor of the Caribbean and Bahamian Islands – Grand Bahama Island boasts the largest coral reef systems in the world, National Parks, and 18 native bird species.