Posted by: admin | February 4th, 2023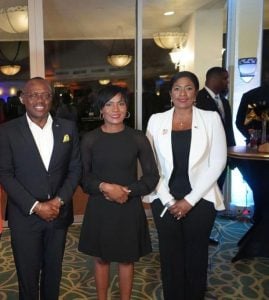 Deputy Prime Minister and Minister of Tourism, Investments and Aviation (BMOTIA), Hon. I. Chester Cooper, Minister for Grand Bahama, Hon. Ginger Moxey, Director General, BMOTIA, Mrs. Latia Duncombe
DPM announces work to begin on Grand Bahama International Airport before 31 March
FREEPORT, Grand Bahama, 2 Feb. 2023 — Officials of the Ministry of Tourism, Investments & Aviation (MOTIA) held a welcome reception at Lighthouse Pointe on Friday, 27 Jan. to thank tour operators, hoteliers, service providers and other key Grand Bahama tourism industry stakeholders for their contribution to the tourism sector.
The welcome reception provided attendees the opportunity to meet and dialogue with the Honourable I. Chester Cooper, Deputy Prime Minister (DPM)and Minister of Tourism, Investments & Aviation about issues pertinent to the tourism industry.
"We are simply here today to tell you how much we appreciate you," said DPM Cooper.
He said: "The truth is, no matter how hard we work, we need you – our partners. You are the ones who run the hotels, the restaurants, you are the ones who serve our guests on a day-to-day basis."
DPM Cooper said that his Ministry will continue to build tourism and deliver large numbers of visitors, noting the 350% increase in visitor arrivals in 2022 compared to pre-pandemic and pre-Dorian numbers.
The Hon. Ginger Moxey, Minister for Grand Bahama, said, "I believe we all share a common goal to see our beautiful Grand Bahama grand again."
"All the entities represented here this evening have a vested interest in our Island's tourism product," she said. "Your contributions are significant, and they greatly enhance our visitors' experience."
Latia Duncombe, newly appointed Director General, in her remarks, extended a special thank you to stakeholders for their partnership with the Ministry.
"We know, and we understand the global travel trends, listen to the market intelligence, but we've taken it to another level," she said. "We are here on the ground to see, to touch, to feel, and to interact with you – our partners."
"It is because of you and our partnership that MOTIA remains strong," she said. "It is because of you that our visitors return again and again."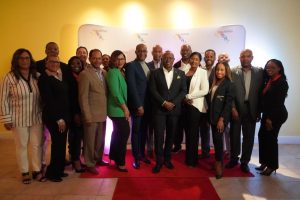 Bahamas Ministry of Tourism, Investments & Aviation Team
Within the last three months, Grand Bahama has seen the reopening of the renovated Domestic Terminal of Grand Bahama International Airport; the return of Sunwing Airlines for six months of service from Toronto and Montreal; the launch of new nonstop service on Bahamasair from Raleigh, North Carolina and the resumption of air service from Charlotte, North Carolina on American Airlines. New airlift from Italy, Tampa, Atlanta, and Fort Lauderdale are expected soon to the island.
####
Media Contact:
Anya A. Hanna
Bahamas Ministry of Tourism & Aviation
1-242-350-8600