Posted by: carmel | January 31st, 2022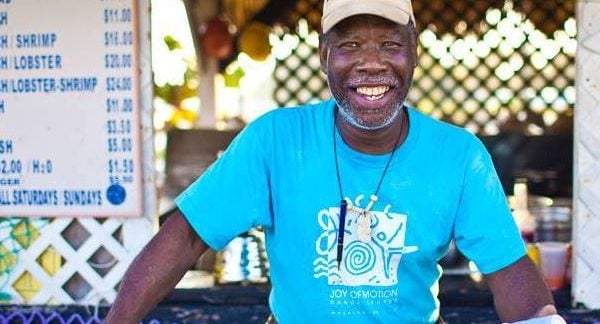 Tony Macaroni's Conch Experience, Grand Bahama Island
For many, the name "Tony Macaroni" is synonymous with Grand Bahama. Widely known for his delectable conch dishes, for the past 30 years, Anthony (Tony) Hanna, better known as "Tony Macaroni" has operated a restaurant on the beautiful Taino Beach located in Freeport, on the South West Coast of Grand Bahama Island.
Over the years thousands of tourists have visited this restaurant, "Tony Macaroni's Conch Experience," a wooden, thatched-roof shack on the white sands facing the crystal-clear blue waters of Taino Beach. Many of these visitors have been repeat visitors who share the sentiments that a visit to Grand Bahama Island is just not complete without a visit to Tony Macaroni's Conch Experience. Besides his mouth watering dishes, the entertainment like Rake and Scrape music, Jazz, or Bonfire nights on the beach, and the refreshing, relaxing atmosphere, it is also Tony's Personality; his humor and love for story telling/folklore that draws so many people, visitors and locals alike, to Tony Macaroni's Conch Experience. He can be found there Sunday to Friday with a broad smile, waiting to entertain guests.

Tony has been recognized by the Bahamas' Ministry of Tourism and awarded the prestigious "Cacique Award" for his outstanding work and positive impact on Tourism on Grand Bahama Island. He has also been featured in magazines like Travel Weekly and has received many great reviews on Travel Sites and Tony Macaroni's Conch Experience Facebook page. Steve Barton wrote, "I was pleased to visit Tony Macaroni's Conch Experience on 01-08-2020. His humor was hilarious, and his cuisine is awesome. The setting is absolutely perfect, and it was hard to leave. Freeport and Tony were definitely the highlights of my cruise and I'll definitely be checking into going back for a longer visit."
This is the fourth time that Tony is nominated for USA Today's Best Caribbean Beach Bar. While he has always placed in the top 10, which is commendable, we want to help him be number one. You can help us by clicking on this link to cast your vote for Tony Macaroni's Conch Experience, Freeport, Bahamas. You may vote once a day, every day until February 14th, 2022.
If you've never done so before, we encourage you to visit Grand Bahama Island, and while here be sure to stop at Taino Beach and Tony Macaroni's Conch Experience. You won't regret it!