Posted by: carmel | June 23rd, 2021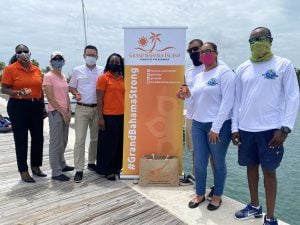 Team GBITB – Meshell Britton, Marco Gobbi, Chrisanne Aston, and Carmel Churchill, presenting Team Battle Ground Bahamas Committee Members first stock of 'Keeping you safe' Hand Sanitizers for Tournament participants
The Grand Bahama Island Tourism/Promotion Board Funds Local Production Efforts
FREEPORT, GRAND BAHAMA– On Friday, June 18, 2021, the Grand Bahama Island Tourism/Promotion Board (GBITB) distributed 50 locally made "Keeping You Safe" hand sanitizers and branded gear to its partners during a sponsorship announcement for the upcoming Battle Ground Bahamas Fishing Tournament, set for June 24-26, 2021, at the Grand Bahama Yacht Club.
While doors to many of the island's leading hotels, resorts, restaurants, and tour companies remained closed, due to COVID-19 protocols in 2020, the Grand Bahama Island Tourism/Promotion Board opened an opportunity to the Perfume Factory by funding the mass production of locally made hand sanitizers.
Branded with the words "Keeping You Safe", the antiseptic spray sanitizer contains 75% alcohol, effectively sanitizing skin surfaces and killing 99.9% of germs. The locally-made sanitizers were produced as a travel-sized 20ml / 0.68 fl. oz misting spray, with a unique slim credit card shape, designed to comfortably fit into your back pocket, purse, gym shorts, or even yoga pants.
Apart from its pocket-perfect features, the hand sanitizer's formula is non-sticky, fast-acting, and fast drying – in less than 15 seconds. The product is gently infused with a signature tropical fragrance, to create a subtle fresh scent, and the bottles are refillable. To refill, simply pull out the top spray nozzle, fill with Fragrance of The Bahamas' sprayable sanitizer, and re-plug the sprayer back into the bottle.
Chrisanne Aston, operator of The Fragrance of The Bahamas, Perfume Factory expressed gratitude to the GBITB for their support in funding this historic and necessary project.
"Fragrance of the Bahamas Limited is incredibly grateful for GBITB's support and partnership, especially during these most challenging times. GBITB has managed to open a brand-new door for us by producing their personalized hand sanitizer which we would not have been able to venture into without them. This new welcomed addition to our production line will hopefully manifest more projects like this for us in the future and hence continue to help us through tough times," said Aston.
Directors of GBITB acknowledged that during one of the most challenging times for the Tourism sector, GBITB remains focused on maintaining a strong relationship with local tour operators, hoteliers, and other allies in an effort to keep Grand Bahama positioned as the most desired vacation getaway, with something for everyone.
Keeping in full compliance with COVID-19 protocols the GBITB continues to lead by example in upholding a standard of safety and professionalism, having all of its Member Properties completed the Clean & Pristine Program through the Ministry of Tourism, sending a reminder to all tourism stakeholders and visitors alike to stay safe.
Board members extend an open invitation to the fishing community, both locally and abroad to participate in the Battle Ground Bahamas, Yellowfin Tuna Fishing Tournament, June 24-26 at the Grand Bahama Yacht Club. The tournament proposes to be a safe, fun-filled, and action-packed event, perfect for the entire family.
About Grand Bahama Island Tourism Board
The Grand Bahama Island Tourism Board (GBITB) is the private sector marketing and promotion agency for Grand Bahama Island.  The GBITB is mandated to support economic growth for tourism stakeholders on Grand Bahama Island.
Activities include the development and execution of various marketing and promotional initiatives designed to enhance and increase Grand Bahama Island's awareness and profile in the market.  The Board's membership includes a wide range of tourism-related businesses including the accommodation sector, restaurants, bars, attractions, transportation providers, artisans, and retailers.